The Templars Of Honor and Temperance
The Templar of Honor and Temperance is a value based society that builds its work in uplifting the personal value of each individual and to, defend and maintain today for the future.
In a society where the human value has taken its toll to the shadows means that our work is now more important than ever, a work where the forces of good is required.
The Supreme Council
The Supreme Council is elected every 3rd year. The acting Supreme Grand Master (SGM) is Per Fredheim (picture) from Sweden. The Supreme Council consists of seven persons including SGM.
Rear row from left:
Supreme Grand Recorder (SGR), Supreme Grand Usher (SGU), Supreme Grand Treasurer (SGT),  Supreme Grand Chaplain (SGC)
Front row from left:
Vice Supreme Grand Master (VSGM), Supreme Grand Master (SGM), Supreme Grand Under Master (SGUM)
Do you want more information about Templars of Honor and Tempereance?
If you want to know more, send us a mail to hsm@tempelriddareorden.org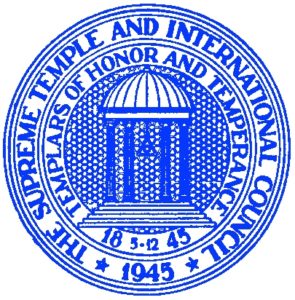 Purpose
The Temple of Honor and Temperance is order and foundation lies on Christian values. Our society is built on the pillars of Truth, Love, Purity and Fidelity. This is what we believe in when we work for developing our members characters as person and my fellow human beings.
The Order of Templars of Honor and Temperance is a Order of sobriety. A life without alcohol and other drugs is a dream that we can achieve together.
Sharing this dream with many others gives a much wider dimension.  A Order of ceremonial meetings also gives you something beyond ordinary everyday life.
History
The Templars of Honor and Temperance established in the United States in 1845 as the Marshall Temperance Fraternity as part of the temperance movement.
The Templars were formed as a result of a schism within the older Sons of Temperance, when some felt that the organization did not have an elaborated enough ritual. The new group changed its name several times, first to "Marshall Temple, No. 1, Sons of Honor," then to "Marshall Temple of Honor, No. 1, Sons of Temperance."
In 1846 the National Temple of the Templars of Honor and Temperance of the United States was instituted in New York.
The Order Today
The Supreme Counsil was transferred to the Nordic countries in 1938. Today the Order only exists in Sweden, Norway, Denmark, Finland, Iceland and the Faeroe Islands. There are three Grand Temple under The Supreme Temple, covering the above countries. The Order has about 3500 members.
Since 2003 a Order for only Women, Tempel Byggare Orden, was founded. It has the same purpose as Templars Of Honor. The two independent orders are working close together in several areas.
Truth
Love
Purity
Fidelity